SEILER MICROSCOPES
ALPHA AIR 6 DENTAL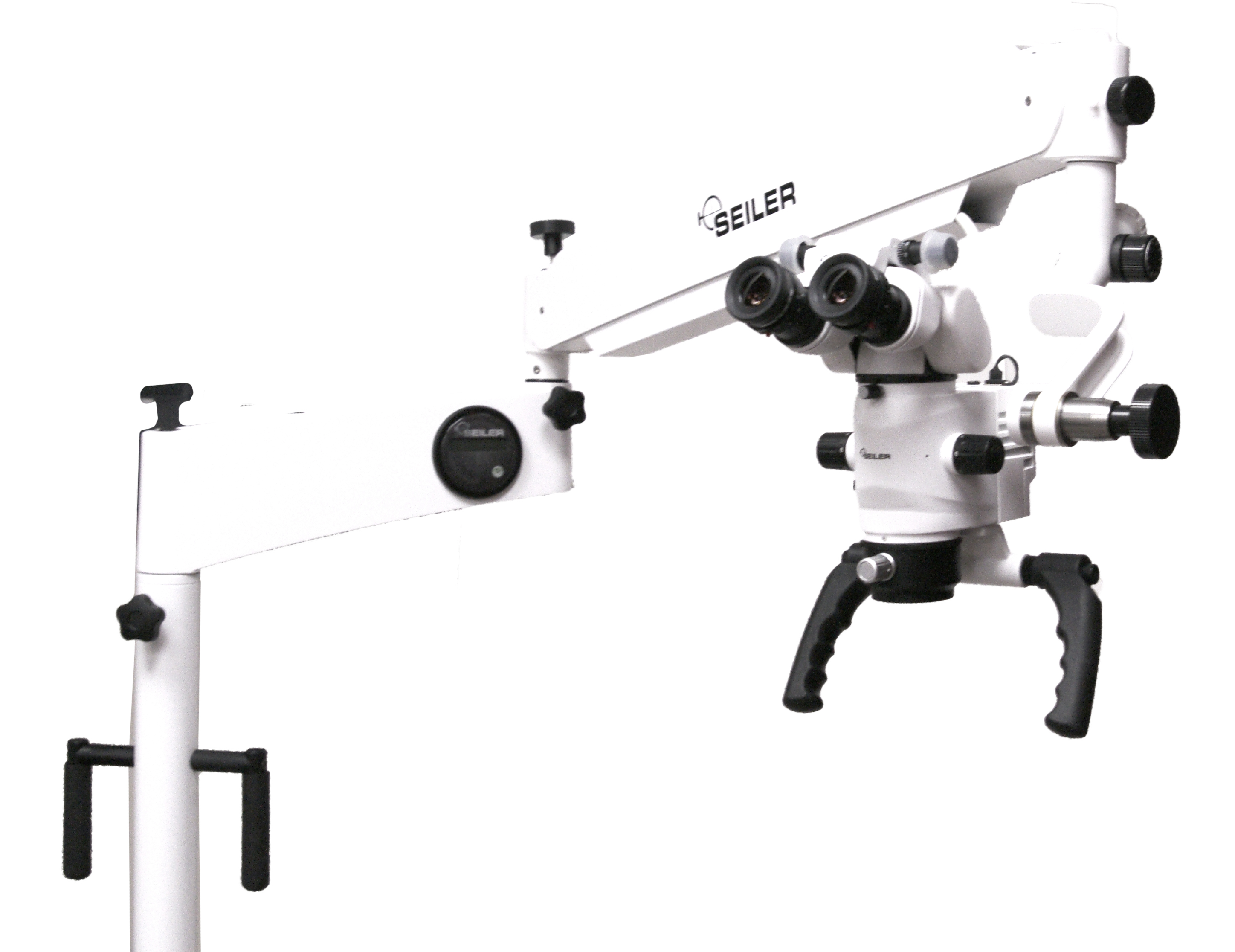 ALPHA AIR 6 DENTAL:
The Seiler Alpha Air 6 truly revolutionizes the way the Dental Microscope performs and operates.  The Alpha Air 6 offers six levels of magnification, German Apochromatic  Lenses for superior optics, the brightest LED Illumination on the market and is exceptionally designed for superior maneuverability and performance.
MICROSCOPE SPECIFICATIONS:
0-220° Inclinable Binocular Head. Optional: 45° Fixed Incline Head.
6 – Step Turret Magnification System.
LED Illumination +150,000 LUX.
10x Widefield eyepieces with dioptic locks. Optional: 12.5x, 16x, and 20x.
Objective Lens:  175mm, 200mm, 250mm, 300mm, and 400mm. Optional:  Vario Focus Lens (200mm – 350mm).
USB and 12 VDC power support directly on Optic Pod.
True Coaxial Illumination.
Composite and Red Free Filter standard.
Large selection of Accessories available.
Lifetime Warranty on Optics and Mechanics.
Five Mounting Options Available:  Floor, Wall, High Wall, Ceiling, Table Top
[START AT 5:40 FOR ALPHA 6 SEILER MICROSCOPE]
LED LOUPE LIGHT: DETAILS
The NEW Ultrabright, Cool-White LED Headlight with an 8 hour rechargeable Lithium Ion Battery Source is the perfect addition to the Seiler Loupes. Adding a light source to your loupes will make a world of difference.
LOUPE SPECS
Four different light intensity settings
8 hour battery life
Lightweight belt clip battery pack
ITEM CODE: LED Light
SPORT LOUPES – SLIM SPORT LOUPES: DETAILS
The Seiler Sport Loupes provide high quality magnification at a reasonable price. Seiler Loupes will enhance any practice that needs the addition of low power magnification. Add clarity for you or your assistants through a new pair of Seiler Sport Loupes. Available in 2.5x, 3.0x, and 3.5x and 3 Sport Colors- Black, Silver, and Blue.
LOUPE SPECS
Available in 3 magnification levels (2.5x, 3.0x, and 3.5x)
Available in 3 different working distances (340mm, 420mm, 500mm)
Available in 3 different colors (Black, Silver, Blue)
Choose your color magnification level and working distance.
ITEM CODE: Sport Loupes